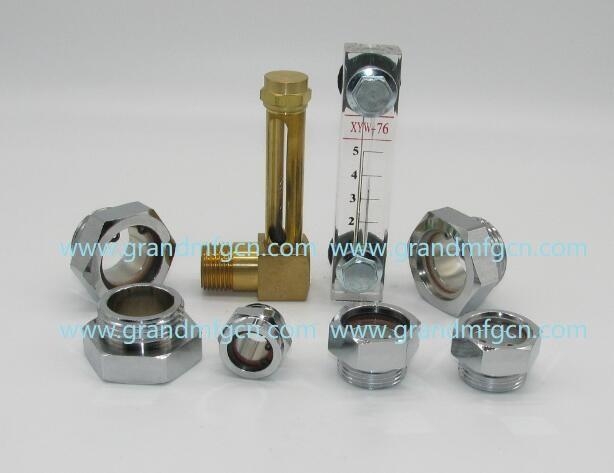 GrandMfg
®
o
bservation ports
Sight glass winodows
Grand Hardware sight glasses are used for visual inspection of the contained areas under the influence of high temperatures and / or pressures.

These type of sight glasses are leak-proof constructed by a single compact construction of burner.
1.Thread Types:Metric thread, BSP Thread and NPT Thread.
2.Our Sight glass can withstand pressures of up to about 25 bar.
3.Tempered Glass Withstand temperatures up to 200 ° C.
4.The special welding process makes additional sealing rings unnecessary.
5.Quartz sight glass is resistant to breakage under rapidly changing temperatures to 1200° C.
6.

The metal housing is available with a zinc/Nickel/Chrome in the case of use in corrosive environment for different customers.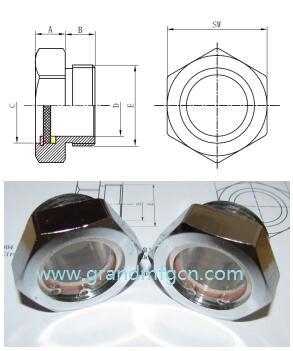 Observation Ports Sight Glass(Metric Thread)

Item No.
A(mm)
B(mm)
C(mm)
D(mm)
E(mm)
SW(mm)
Remarks
GM-BOPM16
12
10
18
10
22
19
Tempered Glass Max Temperature:200 Centigrade. Quartz glass Max Temperature:1200 Centigrade.
GM-BOPM20
12
10
22
14
26
24
GM-BOPM22
12
10
23
15
28
25
GM-BOPM26
12
10
26
18
31
31
GM-BOPM27
12
12
27
19
32
32
GM-BOPM30
12
12
28
20
37
34
GM-BOPM33
12
12
30
22
40
38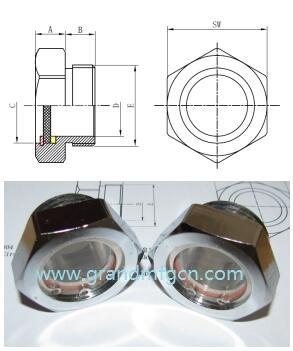 Observation Ports Sight Glass(BSP Thread)

Item No.
A(mm)
B(mm)
C(mm)
D(mm)
E(mm)
SW(mm)
Remarks
GM-BOPG38
12
8
15
10
G3/8"
19
Tempered Glass Max Temperature:200 Centigrade. Quartz glass Max Temperature:1200 Centigrade.
GM-BOPG12
12
9
20
15
G1/2"
24
GM-BOPG34
12
10
25
18
G3/4"
30
GM-BOPG10
12
12
30
22
G1"
40
GM-BOPG114
12
13
36
28
G1-1/4
48
GM-BOPG112
12
13
41
33
G1-1/2"
55
GM-BOPG200
12
13
51
43
G2"
68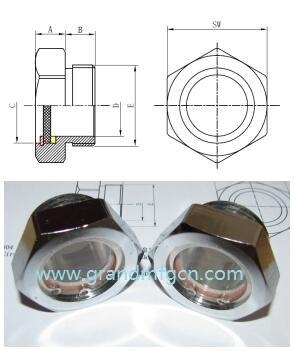 Observation Ports Sight Glass(NPT Thread)

Item No.
A(mm)
B(mm)
C(mm)
D(mm)
E(mm)
SW(mm)
Remarks
GM-BOPN12
10
14
20
15
NPT1/2"
24
Tempered Glass Max Temperature:300 Centigrade. Quartz glass Max Temperature:1200 Centigrade.
GM-BOPN34
10
17
25
18
NPT3/4"
30
GM-BOPN10
10
21
30
22
NPT1"
40
GM-BOPN114
10
22
36
28
NPT1-1/4
48
GM-BOPN112
12
23
41
33
NPT1-1/2"
55
GM-BOPN200
12
25
51
43
NPT2"
68